the cosmoveda
flagship store
Fascinating products for individual well-being and exceptional culinary experiences.
STORE
Give yourself a wonderful lifestyle.
COSMOVEDA stands for the finest, pure organic quality products sourced from its own social projects, produced according to our high Ayurvedic quality standards.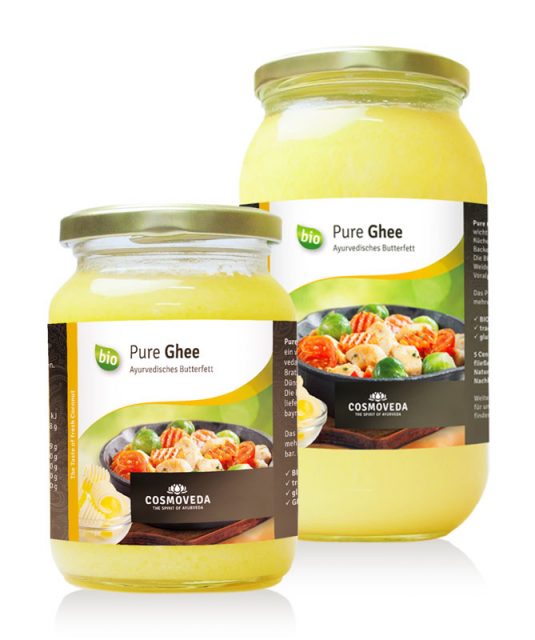 bio and fair trade out of conviction
You can expect more than 1500 organic and fair-trade products from our own production, designed according to our ayurvedic philosophy of life.
lots of fresh produce to keep your life forces going
We present you a selected area with fresh dairy products, vegetables and fruits from regional organic farmers, regional natural food wholesalers and our deli manufactory spoils you with fresh spreads, salads and spices.
enjoy, refuel und relax
Look forward to exotic thalis, sweet delicacies, ayurvedic chai & coffee or fresh bread from the Tandoori oven. Gently slow down, enjoy, make friends and discover new things in a nice open atmosphere.
TO THE ONLINE SHOP
THALI RESTAURANT & CHAI LOUNGE
Daily fresh Ayurvedic cuisine
Lightness, taste and diverse nutrient - our Thali cuisine gives you what you need to master your daily challenges in a playful, modern way. Tackle urban everyday life with energy, clear mind and ease. Power food for body, mind and soul.
Our Thalis
Our thalis consist of a daily changing vegetarian curry with varying rice varieties, a soup of the day, salad side dish and refined rice milk-based desserts.
All fresh ingredients are certified, preferably regional and seasonal, sourced from the natural food wholesalers Terra and local farmers. Spices, rice and dal come from our own projects.
Ingredients
We do not use white sugar, wheat flour, artificial additives and flavor enhancers. We sweeten with jaggery (whole cane sugar), honey, treacle (coconut flower syrup) or agave syrup. We salt only with reddish rock salt from the Himalayan foothills.
A vegan thali alternative is easily available since our favorite coconut-flavored cuisine, prevailing in many Asian countries, southern India and Sri Lanka, is naturally vegan.
THALI WEEKLY MENU
Chocolate & Chai Lounge
Our Chocolate & Chai Lounge with fragrant Chai and cocoa, small sweet delicacies and green coffee invites you to meet nice people over a cup of chai and just let everything be good.
Chai is a fascinating drink. It warms from the inside giving a nice feel of security and a comfortable gut feeling. The secret lies in the composition. Precious spices such as cardamom, cinnamon and cloves, high quality whole cane sugar and fine tea.
Our sweets such as laddhu, coconut balls and nut slices, are made only from the best raw materials. We use jaggery whole cane sugar, coconut blossom syrup or dried fruit for sweetening, high quality flours for baking and nuts and cereals from our projects. The finest cocoa from Bali invigorates the senses, pampers body and soul with its delicious aroma and diverse ingredients.
We abstain from eggs and use milk and cream very sparingly and consciously as a precious gift of nature. Many of our delicious creations are vegan, some raw and with lots of coconut and, of course, made with love.
NEUER FRISCHEBEREICH MIT OBST & GEMÜSE

Ab sofort kannst Du alle Gemüse, Obst und Frischeprodukte kaufen, die wir auch für unsere Thali Küche verwenden.

Charaka sagt

"Ayurveda ist das, was sich mit dem guten und dem schlechten, dem glücklichen und dem unglücklichen Leben befasst, mit dem, was Leben unterstützt und was es hemmt, mit der Natur des Lebens selbst und auch seinen Lebensspannen."


Charaka Sutrasthana, 1.41
THALI RESTAURANT, CHAI LOUNGE & STORE
Opening hours and directions
Our COSMOVEDA flagship store is situated in the heart of Kreuzberg, between Kottbusser Tor and Oranienstraße, is in Adalbertstraße's backyard.
STORE
Monday – Friday
10:00 a.m. – 6:00 p.m.
Saturday
10:00 a.m. – 4:00 p.m.
THALI LOUNGE
Monday – Friday
11:30 a.m. – 4:00 p.m.
Saturday
11:30 a.m. – 3:00 p.m.
by underground train system
Line 1 / Line 8 until "Kottbusser Tor" and 2 minutes to walk
line M29 until "Adalbertstr. / Oranienstr." and 1 Minute to walk
line 140 until "U Kottbusser Tor" and 1 Minute to walk
Visitor parking spaces are available in the backyard.