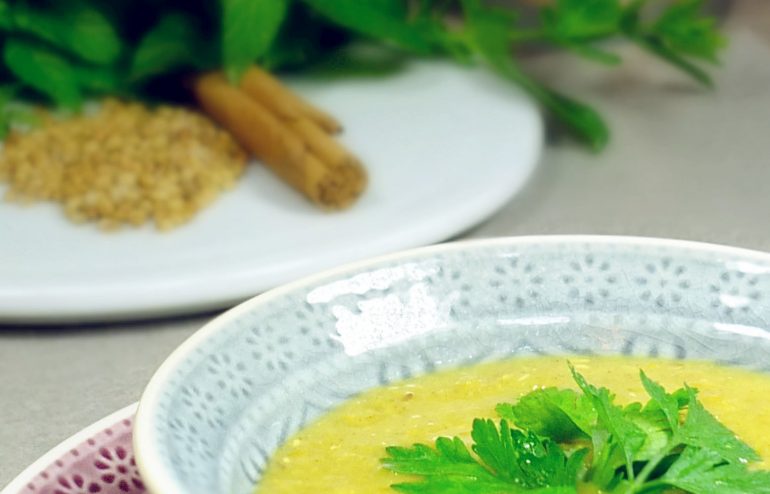 ---
Green mung beans soup with basmati rice
Ingredients serve 3-4 persons:
3 handfuls of green mung beans
½ liter of water
2 garlic cloves (optional)
a piece of fresh ginger, about 4 cm long
1 tablespoon turmeric
1 ½ teaspoons freshly ground coriander seeds
1 ½ teaspoons freshly ground cumin seeds
½ teaspoon cinnamon
salt
Pippali pepper
2 tablespoons of ghee
freshly chopped coriander leaves
Soak green mung beans overnight in cold water (or at least 7 hours). If necessary, add a little water. Beans must be completely submerged and swell up.
Pour away the soaking water.
Boil mung beans in half a liter of fresh water over medium heat. On top will form grayish foam which must be scooped out before adding any other ingredient or spice. With closed lid and reduced heat, simmer the beans gently for 25 minutes. If you like garlic, cook two whole garlic cloves with it. Grate fresh ginger and add to the soup.
Add spices: grind cumin and coriander seeds in a mortar beforehand; add turmeric and cinnamon powder. Simmer all for another 10 minutes. If necessary, add a little hot water.
Season with 2 tablespoons of ghee, a bit of Pippali pepper and rock salt.
Serve with basmati rice and freshly chopped coriander leaves.
Mung beans are very high in protein, easily digestible for young and old and detoxify. The mung bean soup is very filling and therefore perfect as lunch or light evening soup. Served with basmati rice, this soup makes a wholesome meal.
If you do not want to give up your bread: the soup tastes great with spelt toast and some goat cheese.
Make large amount of mung bean soup and warm up small amount for each meal. In the fridge soup will thicken a lot but can be easily thinned again by adding water. Enjoy your meal!
Preparation time: 35 minutes, beans must be soaked 6-7 hours before cooking