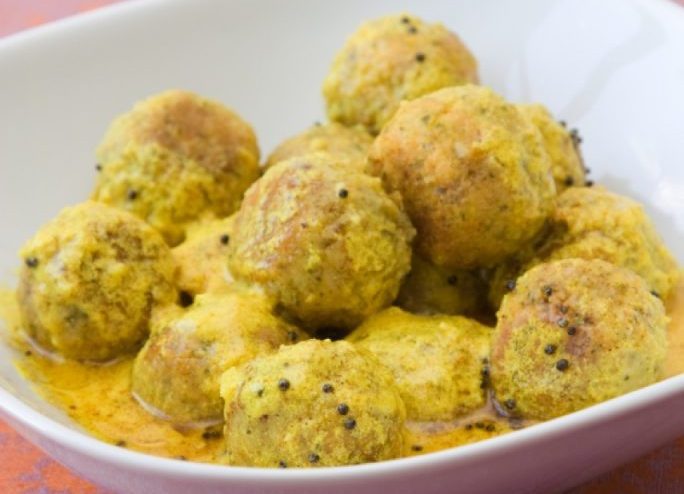 ---
Red Lentil Balls
Ingredients serve 4 persons:
Lentil balls:
150 g red lentils
1 teaspoon xacuti masala
1 tsp red karinam
1 teaspoon amchur (green mango powder)
coconut flakes
1 teaspoon chopped almonds
1 tablespoon chopped parsley
salt
For the sauce:
100g whole almonds
1 tomato middle-sized, diced
1 teaspoon yellow karinam
1 tablespoon fresh ginger chopped
750 ml soy milk
salt
1 teaspoon pink peppercorns

Preheat the oven to 180°C and line baking tray with baking paper.
Soak red lentils in 500 ml of warm water for 15 minutes and drain. Cook the lentils in a pot with only about 250 ml of water. Do not add much water, the "porridge" should not be too thin.
Mix the lentils with xacuti masala, karinam and amchur powder. The mass should be well kneaded and medium strength. If is too thin, gradually knead in coconut flakes. Add almonds, parsley and season with salt.
Hand-form small balls from the lentils' mass. Place balls on baking tray and bake in the oven for 10-15 minutes or until golden brown and crispy.
To make sauce, blend all ingredients, except pepper and salt, boil and season with salt. Serve sauce in a deep plate and lentil balls in the saucepan. Garnish with pink peppercorns and enjoy!
Xacuti Masala:
Whole spices: 1 tablespoon ajowan, anise, fenugreek seeds, cumin, cloves, black peppercorns, black mustard seeds and juniper berries
Ground spices: 1 tablespoon chili powder, ginger powder, turmeric powder and hot paprika powder.
Fry whole spices in a pan, over medium heat, for 2 – 3 minutes. Reduce the heat. Let it cool for 5 minutes then finely grind in a mortar. Mix in the powdered spices. Finished. Store in tightly closed container, in a cool and dark place.
Red Karinam:
50 g coconut flakes
2 tablespoon Tandoori masala ready mix and mild paprika powder
1 teaspoon amchur, whole cane sugar and xacuti masala
1 tablespoon chili powder
1 tablespoon ginger powder
1 tablespoon cinnamon powder
150 ml sesame oil
Mix in ingredients with 100 ml sesame oil and blend until you get a homogeneous liquid. Add remaining 50 ml of oil to the karinam to extend shelf life (6 weeks in refrigerator).
Preparation time: approximately 40 minutes
The recipe originates from "Nicky's Veda", Nicky Satiram Sabnis Cookbook, Irisiana 2014.