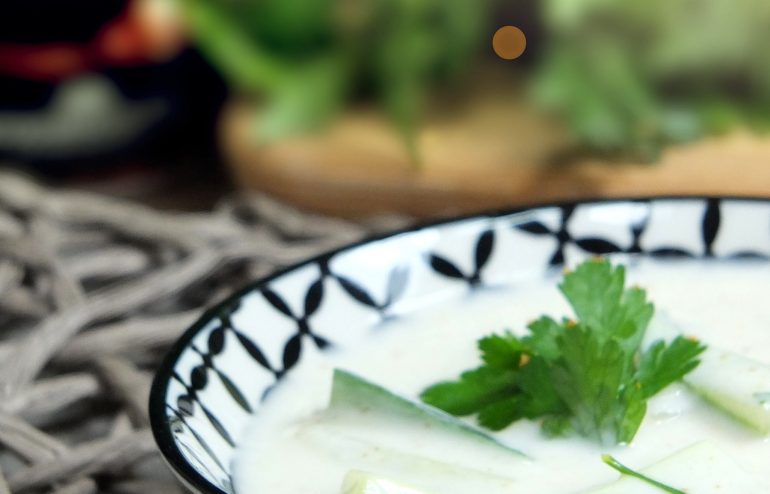 ---
Cucumber-Raita
Fresh yoghurt and cucumber salad are traditionally served as a side dish. It tastes wonderfully refreshing in the summer and defuses spicy curries.
Servings per person: about 1 – 2 spoons.
This recipe serves for 4 – 6 people.
Preparation time: 10 – 15 minutes.
Ingredients
700 g fresh cucumbers
1 tablespoon black mustard seeds
1 teaspoon cumin seeds
500 ml natural yoghurt 3.7% fat
1 tablespoon sugar
1 ½ tablespoon salt
1 tablespoon ghee
1 small handful of freshly chopped coriander leaves
Optional: green chili, finely chopped
Preparation
Peel and grate the cucumbers. Sieve cucumber water. In a pan, heat ghee on medium heat and add the mustard and cumin seeds. Once the mustard seeds start to pop, take the ghee off the fire. Mix in natural yoghurt, salt, sugar and grated cucumber in a bowl. Allow the spices sautéed in ghee to cool, add to the mixture and stir well. (Those with tolerance for hot spices can add fresh finely chopped green chili.) Finely chop fresh coriander leaves and add to the mixture. Raita is ready to enjoy.