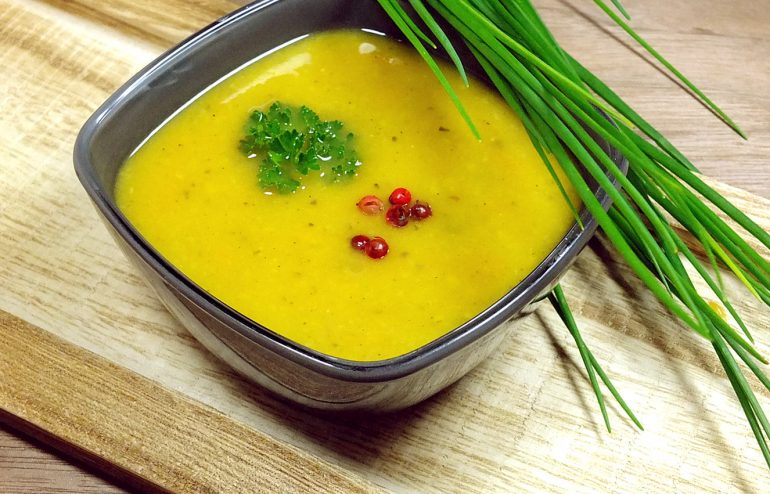 ---
Moong Dal
Moong Dal are peeled and halved Moong beans, frequently used in the Ayurvedic cuisine for rich and delicious side dishes and soups. For vegetarians, dal is good meat substitute since it provides lots of protein and naturally contained minerals.
Ingredients:
1 ½ cups yellow, halved Moong beans
1 onion, finely chopped
1 small chili or 1 teaspoon of fresh ginger
1 clove of garlic, finely chopped
1 teaspoon cumin seeds
1 knife tip asafetida
½ tablespoon turmeric
2 teaspoons ghee
4-5 curry leaves
½ tablespoon garam masala
1 teaspoon ayurvedic rock salt
1 tablespoon dal masala
amchur or tamarind paste, according to taste
fresh coriander leaves to garnish
4-5 cups of water
Preparation:
Heat the ghee in a large saucepan and start with cumin seeds. Add finely chopped onions, garlic clove and ginger and shortly fry spices over high heat. Add turmeric, asafetida, garam masala and curry leaves and briefly fry.
Add washed lentils and lightly stir-fry. Add specified amount of water and salt. Bring all the ingredients to a boil. Reduce the heat and let it simmer on low heat until all liquid evaporates.
Stir the dal until creamy. Season with amchur or tamarind paste and dal masala and garnish with fresh coriander leaves.
Recipe serves 3-4 persons